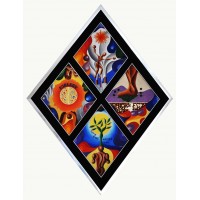 1977 Let's Save the Nature, the Man, the Environment (95 x 125)
Scorri per leggere la descrizione dell'opera . . .

Olio su tela 120 x 100 - (1983)

The topic treated, well in advance of the collective sensitivity to these issues, follow the strand on the Protection of the Planet Earth and its survival of the human race.
The framework on rhomboidal basic is composed of n°4 sequential symbolic representations, joined together by the same thread that put in evidence as "humans" for many decades are polluting and destroying the planet and what should instead be the hope, as reads the written work, along with the desire to break free and escape from this condition.
Unfortunately, in recent years there has been a continuous downward trend, the feedback I had attended every summer, for over twenty years, the mountains of Trentino, where gradually the glaciers have thinned, in some cases up disappear.
The work expresses and reaffirms a strong complaint against the "lobbies" of big business and irresponsible powers who govern us and the prediction of a possible planetary catastrophe takes more and more body, so almost inevitable, and with a certain resignation on our part .
And then, before it is too late we must raise awareness in all circumstances who manages the fate of our planet, for a real and significant turnaround, to save our most valuable asset, our "home", our beloved "Earth."